Win Splash About Kids Swimwear Essentials Bundle
Competition Closes
3 November 2023
This competition is closed now and the winner is Sallie Burrows from Framlingham.
Join our October Half Term competition brought to you by award-winning Splash About Kids' Swimwear! Enter now for a chance to win one of our highly-desirable children's swimwear bundles, worth £64.99!
The bundle will include the award-winning Happy Nappy DuoTM, Baby Wrap WetsuitTM, Changing Mat, and Geometric Quick Dry Towel – the perfect essentials for family holidays at the beach or swimming lessons at the local leisure centre.
Splash About is renowned for providing swimwear that's trusted by parents, loved by kids and recommended by swim schools worldwide. Offering the world's largest range of swimwear for babies, toddlers and kids (0 months – 6 years), all specifically designed to keep them safe and comfortable in the water, it's no wonder they're worn by 100,000 babies each week in professional swim classes in the UK alone!
Splash About Happy Nappy DuoTM
The Splash About Happy Nappy DUO is the most advanced reusable swim nappy on the global market today – with a neoprene outer shell and boasting specialist waist and thigh ribbing, it effectively contains any unwelcome accidents. It also has an innovative Silver Lining layer with natural anti-bacterial properties which is soothing on baby skin, but importantly is scientifically proven to destroy and render harmless any pathogens present. This includes E.coli and Cryptosporidium which chlorine alone can't kill and these bacteria are responsible for sickness and nasty tummy bugs once in the pool water.
There is no need to wear the DUO with a disposable, the eco-friendly DUO is the only swim nappy a baby needs.
The quick drying neoprene is also perfect for taking on holiday or the ultimate swimming lesson essential – taking up less room than bulky disposables in the suitcase or swim bag, whilst also offering UPF50+ sun protection.
Available in a range of different prints.
Available sizes: 0-3 months, 3-6 months, 6-12 months, 12-24 months and 2-3 Years.
Splash About Baby WrapTM Wetsuit
The Baby WrapTM Wetsuit from Splash About provides core body coverage and warmth with its 2mm thick neoprene material, as well as providing UPF 50+ protection from the sun. The design enables children to move their arms and legs freely, so they can splash about in the water without restriction.
It's the perfect choice for wriggly babies and toddlers as the convenient design opens completely flat for easy dressing and undressing. The strong Velcro fastening keeps the wetsuit tight around the body for support, as well as being fully adjustable, so it's a great option for growing babies.
Available in a range of different prints.
Available sizes: 0-6 months, 6-18 months & 18-30 Months.
Splash About Changing Mat
Splash About's Changing Mats are the perfect addition to your baby's swim kit. Specifically made with a soft, non-slip, 3mm thick neoprene, to protect your baby from cold and dirty changing room floors and changing tables.
What's even more impressive is the neoprene material retains heat so your baby will feel warmer during changing whilst its natural antibacterial properties protect against bugs and dirt on the changing station or floor.
The changing mat is quick drying and easy to care for; simply wipe them down once used, roll up and secure with the tabs.
Splash About Geometric Quick Dry Towel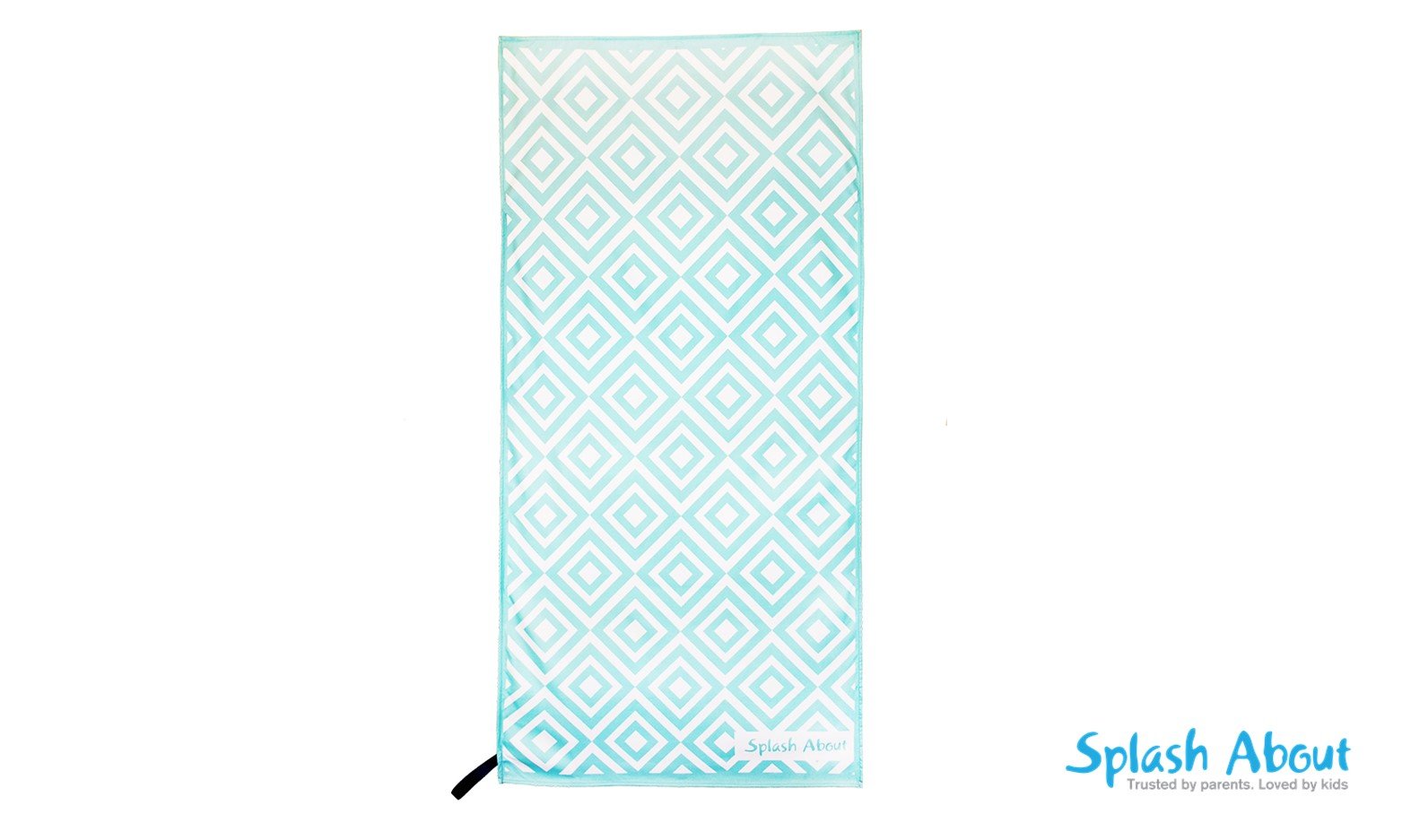 Splash About Geometric Quick Dry Towel is the only towel you need for your beach bag or swim kit.
Lightweight, yet super absorbent, the towel dries you in no time after your swim, and dries out super quickly too, ready to be folded and packed away into your bag. It also comes with attached elastic to hang the towel to dry, which can then be used to wrap around the towel when folded away to keep it compact.
Not only does it dry out quickly, it's also easy to shake off any sand after relaxing on the beach, keeping you comfortable and dry all day.
How to Enter
If you want to be in for the chance to win the fantastic Splash About kids swimwear bundle worth £64.99, entering couldn't be easier. All you need to do is Follow the Splash About UK Instagram page, and submit your details below.
Visit Splash About Instagram Page
This competition is closed now and the winner is Sallie Burrows from Framlingham.
Its Also always handy to follow either our Instagram Page or Liked our Facebook Page – as trying to get in touch with Winners have proved to be difficult as people are not replying to our emails, so to back this up we are now asking you follow one of our pages so we have another way to get in touch with you. Good Luck Everyone!
Click Here to read our competition terms and conditions

Looking for Fun Family Friendly Recipes, Kids Activities or Top Tips – Then Why Not Visit Our Latest News Pages for some Inspitation