We earn a commission for products purchased through some links in this article. This does not affect the products our editors choose to review or our opinions, nor does it carry any additional costs to our readers.
Sun-Safe Summer: Polarn O.Pyret Kids Embroidered Cap Review
With Summer in full swing, all parents know what that means – loads of fun under the sun for our little adventurers! But as much as we want them to enjoy the outdoors, we also want to keep them safe from those harsh sun rays. So, we thought we'd share our thoughts on why getting your child a hat this summer is a must-do, and we've got the perfect cap to review – the Polarn O.Pyret Kids Embroidered Cap.
We recently got sent one of Polarn O.Pyret Embroidered Kids Caps to put to the test and we're thrilled to give you our honest take on whether it's the perfect choice to keep your child safe and stylish under the summer sun. Plus, we'll let you in on why we absolutely love the sustainable ethos of Polarn O.Pyret. So, let's dive in and explore all the sun-safe goodness this cap has to offer.
Why You Need a Summer Hat for Your Child
First things first, let's talk about why a summer hat is a must-have for our kids. You guessed it – protection from the blazing sun! The last thing we want is for our little ones to suffer from sunburns, especially on their faces, necks, and ears. That's where a cool and comfy hat comes to the rescue. It's like a mini shade for their heads, making sure they can enjoy their playtime without the sunburn worries.
Not only does a summer hat provide much-needed shade, but it also helps prevent potential long-term damage caused by the sun's harmful rays. We all want our kids to grow up healthy and happy, and taking this simple yet effective step in sun protection can make a world of difference.
Introducing Polarn O.Pyret: Our Summer Hat Saviour
This summer, our little munchkin is rocking the Polarn O.Pyret Kids Embroidered Cap – and boy, are we impressed! First off, let us tell you a bit about Polarn O.Pyret. They're a Swedish kid's wear brand with a heart of gold, creating top-notch clothes since 1976. They've even rated the No.1 Kidswear brand on Trustpilot – and we can see why!
Our Polarn O.Pyret Kids Embroidered Cap Review
We were lucky enough to get our hands on their adorable purple cap with fun unicorn embroidery. Our little one loved it at first sight. Now, the true test – we took it everywhere, from the beach to the park and even sent it to school and wore it on cycling trips.
Performance-wise – it's a champ! We found it kept our child's head cool, and their eyes were perfectly shaded, even during hours of play. No more grumpy sunburnt faces for us!
Here's the best part – the cap comes with a clasp at the back for easy size adjustment. It's like a magical cap that grows with your child. So, this nifty investment is going to last us for years, so we give it thumbs up for saving some money.
This cap is both sustainable and organic, so kind to kids and the planet. We're all about being eco-conscious, and Polarn O.Pyret's cap ticked all the boxes. Made from 100% organic cotton, it's gentle on our child's skin and gentle on Mother Earth.
Let's not overlook the charming selection of designs, each one more adorable than the last. The unicorn design we received is simply precious and adds a touch of magic to our little one's summer ensemble. The best part is, Polarn O.Pyret caters to all ages with their range of sizes – from 9-24 months, 2-9 years, to 9-12 years. So, whether you have a tiny tot, a playful kid, or a growing youngster, there's a perfect fit for everyone.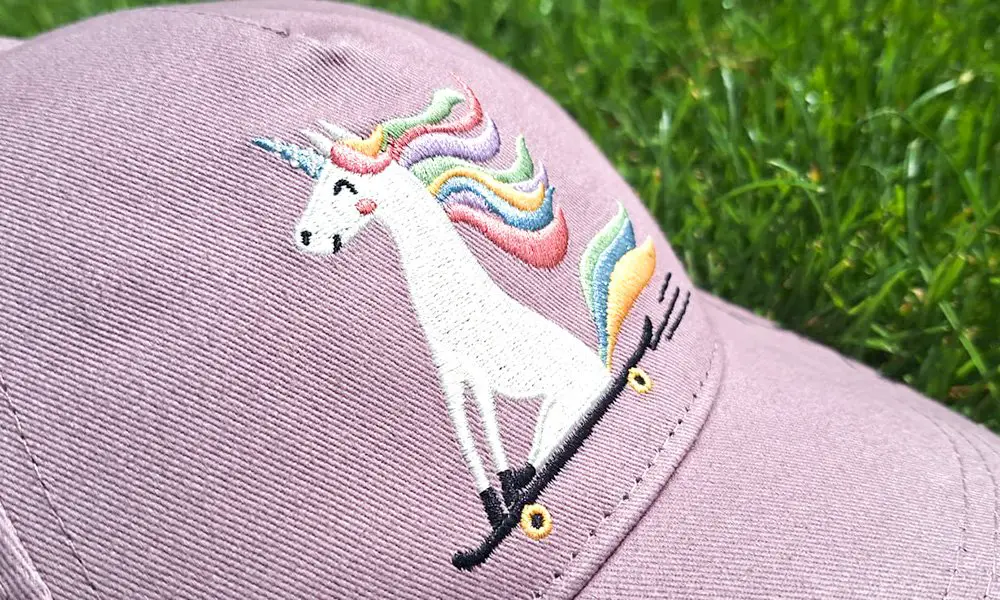 But that's not all – Polarn O.Pyret goes above and beyond with their delightful variety of designs. From fiery fire engines that ignite their imagination to fierce leopards that bring out the adventurer, and even delightful ice cream themes that satisfy their sweet side – they've got something special for every kiddo. Trust us when we say that these captivating designs are an absolute hit with kids of all ages, making the Polarn O.Pyret Kids Embroidered Cap a must-have accessory for every young explorer, no matter their age.
Polarn O.Pyret: A Brand that Steals Our Hearts with Sustainable Values
We absolutely adore the values upheld by Polarn O.Pyret – they are far from being a typical fast fashion brand. Their focus is on creating durable and long-lasting clothing that stands the test of time. With a free repair service, second-hand sales, and more, they are setting a new standard for sustainable fashion.
In fact, their dedication to sustainability earned them the prestigious Drapers 'Best Circularity Initiative award in 2023, alongside massive brands like eBay, M&S, and Mulberry. As leaders in the field, Polarn O.Pyret is on a mission to ensure that each PO.P item gets worn by at least three kids. They believe in extending the lifespan of every garment, and rightfully so – clothes that endure deserve to be cherished and passed on.
To further their commitment, Polarn O.Pyret has expanded their second-hand service, and they are now accepting all sorts of items – from socks to swimwear. It doesn't matter where you bought it from or how old it is, they welcome it all, as long as the item is clean and undamaged before sending it back to them.
As parents, we think this is a win-win situation. You can trade in your outgrown Polarn O.Pyret clothes and receive a voucher to use on a future purchase. Not only does this benefit our wallets, but it also works wonders for the planet. Investing in Polarn O.Pyret now means you can trade in those outgrown clothes later, making it a sustainable and eco-conscious choice that we can all feel good about.
Our Final Thoughts
All in all, we're head-over-heels for the Polarn O.Pyret Kids Embroidered Cap. It's not just a hat; it's a lifesaver for keeping our child safe and cool under the summer sun. The adjustable size means it'll be our child's trusty companion for years to come. And the fact that it's sustainable and made with love, makes us delighted to be supporting such an awesome brand.
We would 100% recommend checking out their caps if you want your child to have a sun-safe and stylish summer.