We earn a commission for products purchased through some links in this article. This does not affect the products our editors choose to review or our opinions, nor does it carry any additional costs to our readers.
WWF Wild Scenes Elephants' Watering Hole Review
Kids can grow their very own wild scenes with these new WWF playsets, learning how to grow and nurture their own plants whilst helping them learn about endangered species habitats. Read our review to see if your child would love to look after a WWF Wild Scenes.
PlayMonster UK has collaborated with WWF, the world's leading independent conservation organisation to bring Wild Scenes to kids playtime and we're very excited as they sent us one of them to put to the test, in return for us sharing our honest thoughts with our readers and if we think it is worth adding to your family's toy collection.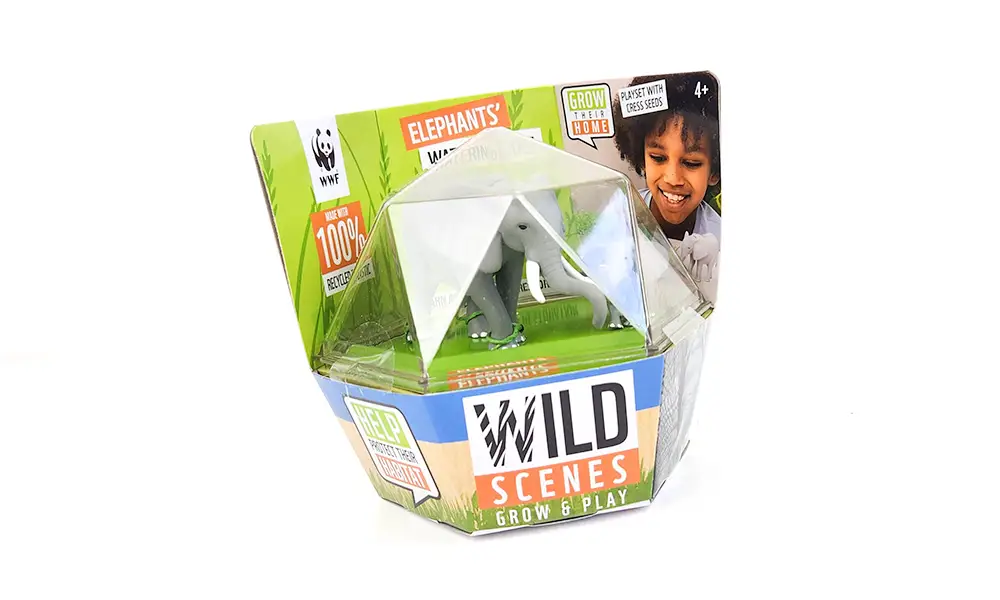 What's Inside the Box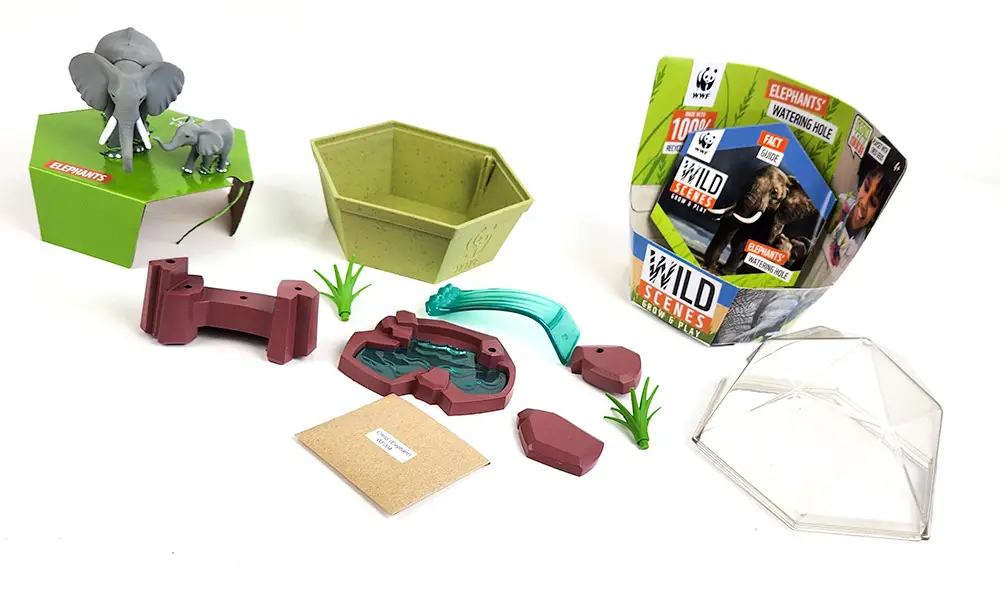 Inside the WWF Wild Scenes Elephants' Watering Hole box, you will find:
Large Elephant
Small Elephant
Packet of Cress Seeds
Base
Waterfall
Lid
Fact Booklet
Growing Your Own WWF Wild Scenes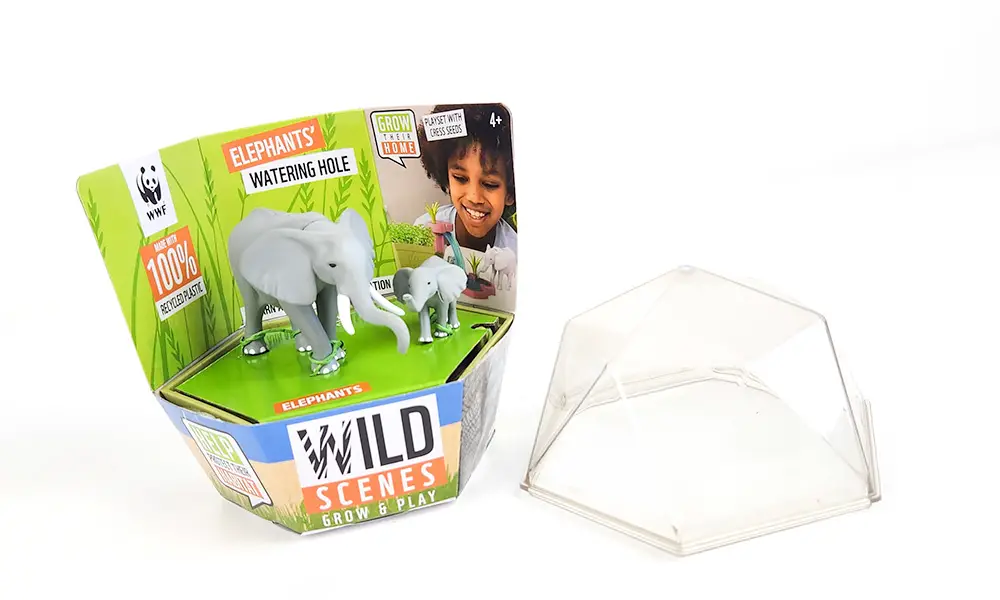 There are four different WWF Wild scenes to collect they include different seeds to grow in each set, such as the Panda's Bamboo Forest that comes with dill seeds to grow, the Orang-utans' Treetop that comes with coriander seeds to grow, the Tigers' hideout that has grass seeds included to grow and the Elephants Watering Hole which comes with cress seeds to grow.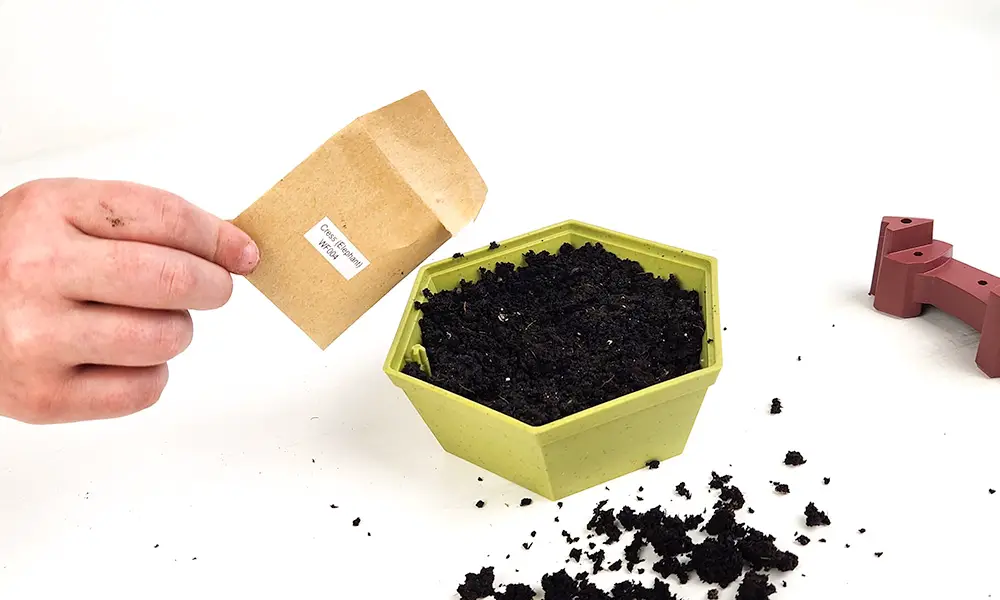 We found it very easy and enjoyable for the kids to set up. You just need a little bit of compost to fill your base with, but other to that everything else is included.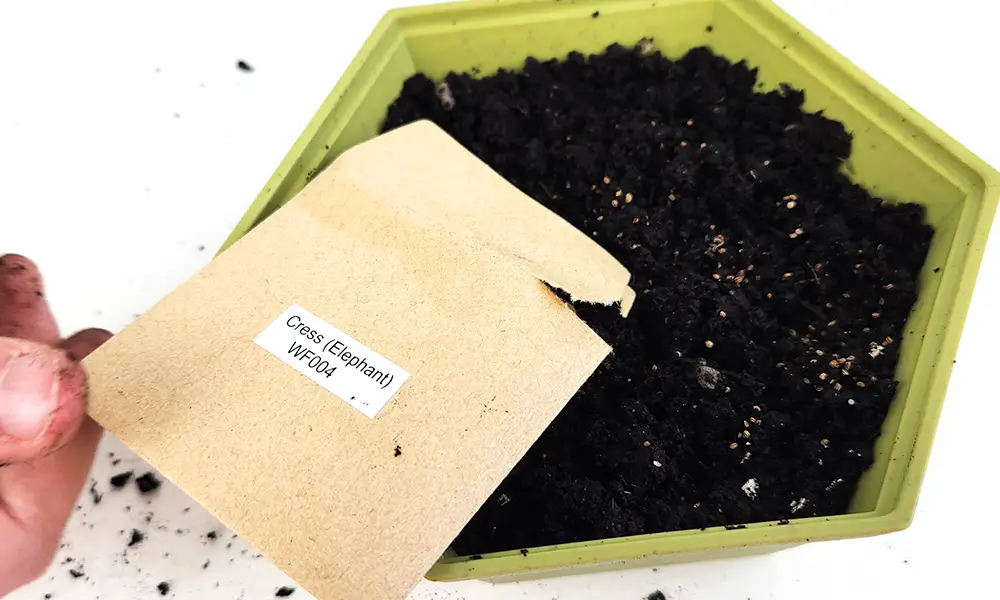 Once you have popped the compost into your base, all you need to do is pour in your seeds. In our Elephant watering hole we had cress seeds. Then we covered with more composts before giving it a good watering.
As parents it was lovely to see the kids look after the cress they were growing keeping it in a sunny spot and watering. Its a playset for them to play with whilst they grow and nurture their own plants.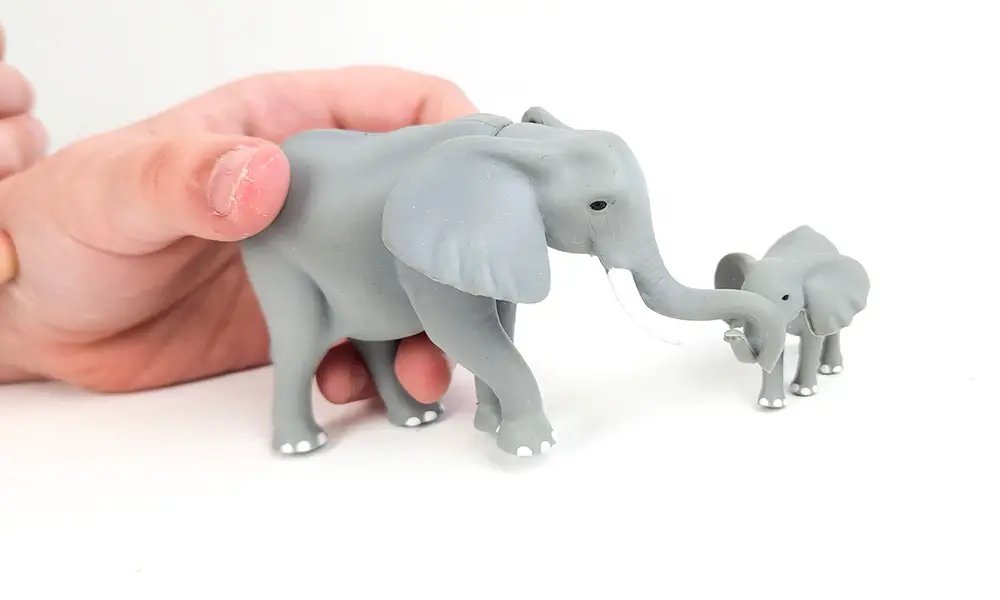 Also included in the playset is a fun little fact sheet about the endangered animal and their habitat. In our playset the info was all about the elephants. Explaining to kids things like how Asian Elephants once roamed across most of Asia, but now they're restricted to just 15% of their original range, which all the kids found interesting and disappointing.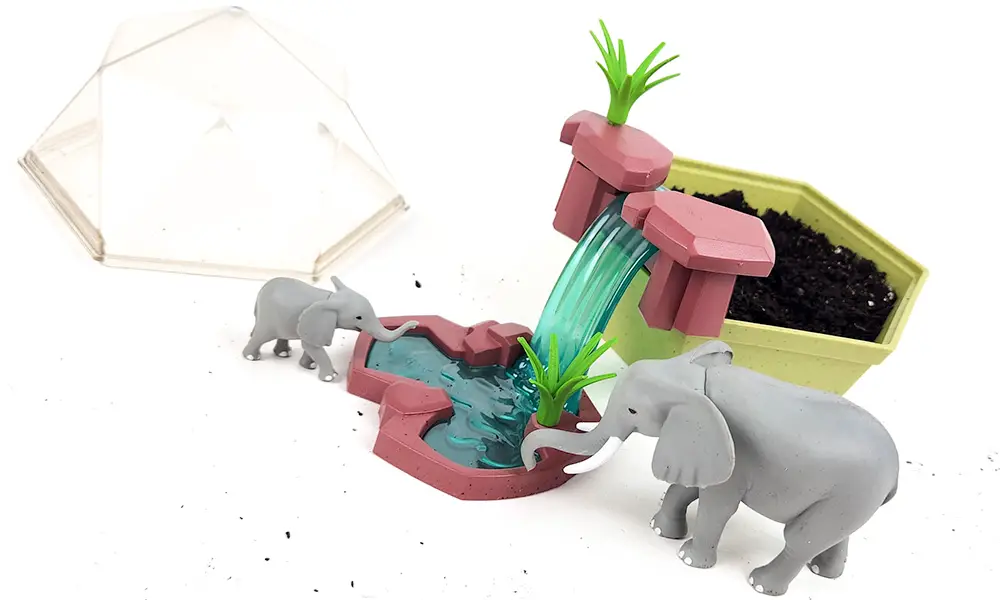 Refreshingly the WWF Wild Scenes are made with 100% recycled plastics, so you can be sure your buying a toy for your little one that does not contain any single use plastic. Plus too the packaging and the product are 100% recyclable.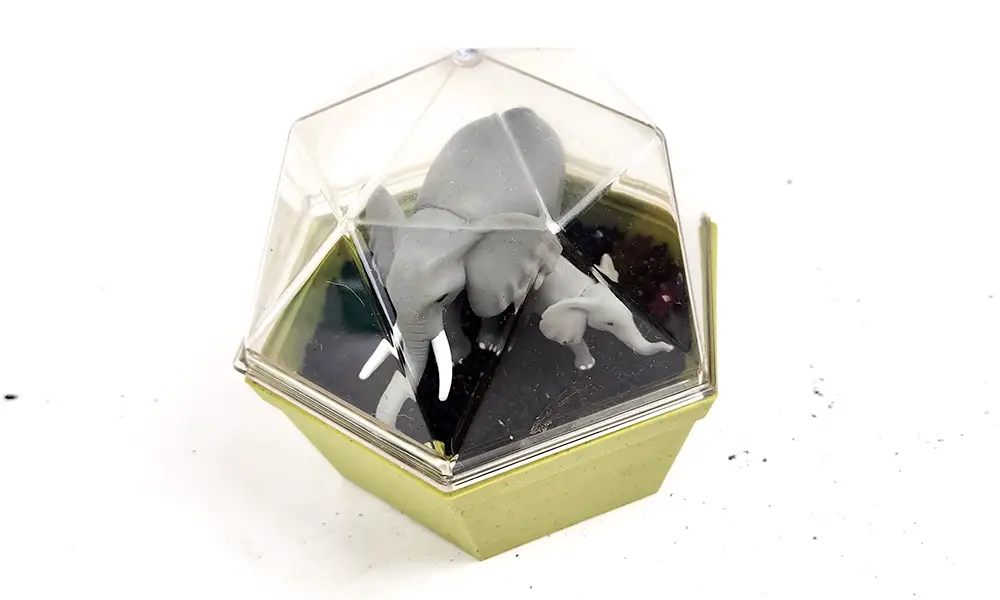 It took quite a while for our cress to grow, we're thinking maybe we added too much compost on top of the cress seeds, that and the kids kept putting the elephants inside the growing tub, but once the cress broke through, it grew from strength to strength and because the kids could visually see it their excitement each day also grew.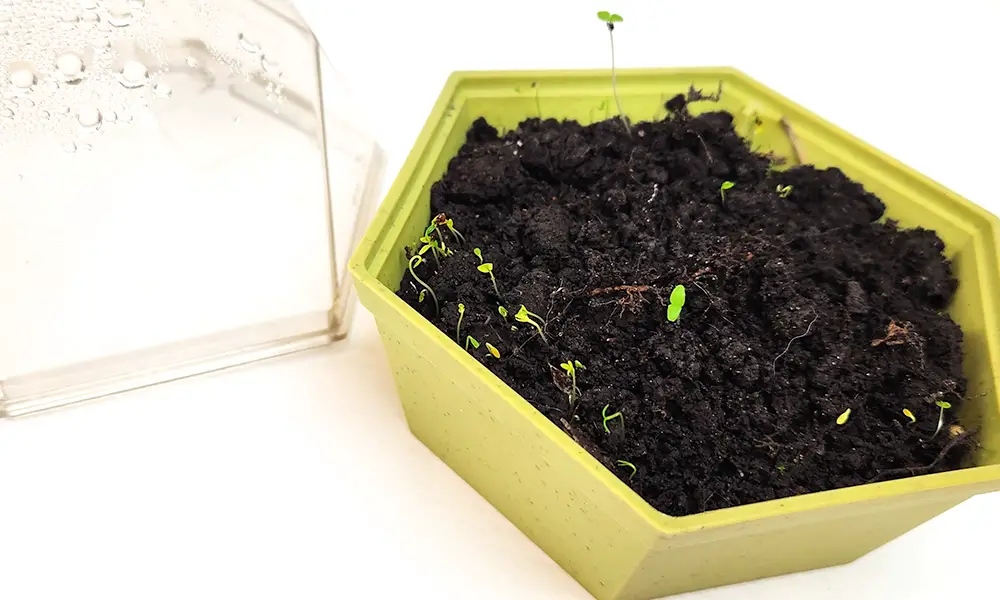 Where to Buy Your Own WWF Wild Scenes
The PlayMonster WWF Wild Scenes like this Elephants' Watering Hole are aimed at kids 4 years and over and can be found in store at Argos or online at Amazon with prices and RRP of £13.00. For each product sold, a donation will be made to WWF to help protect endangered species and their habitats.
Would we Recommend WWF Wild Scenes to Your Family?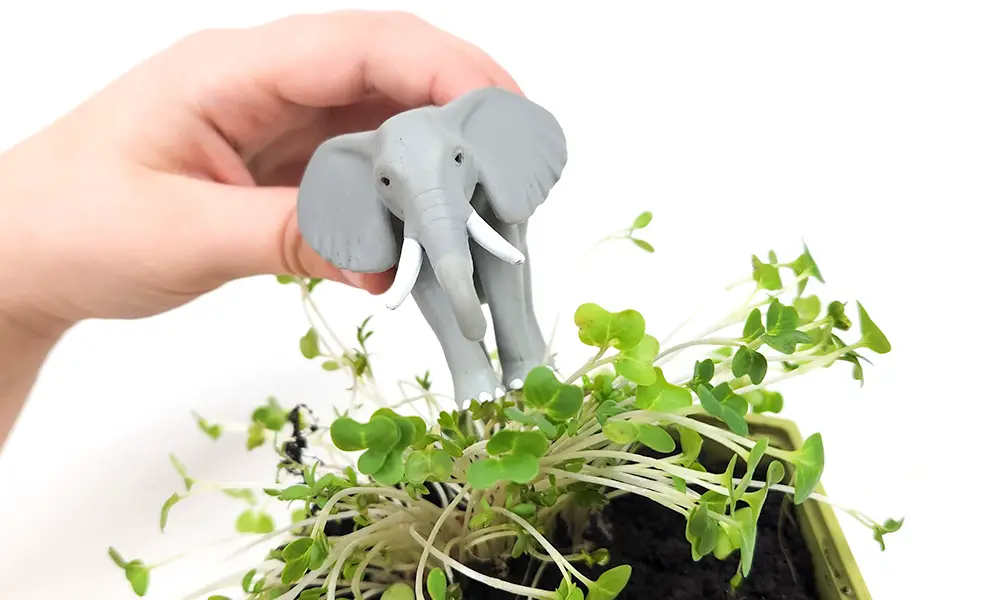 All the kids enjoyed playing with this wildlife playset. It was so lovely to see them play with this unique collector toy, taking their elephants to the watering hole and pretending its the elephants that are watering the seeds. They haven't experienced a grow and play toy like this before, so was all new and exciting.
Inside it comes with a fact sheet, which is not just the learning aspect for kids, as much as its the educating side to highlight the importance of wildlife preservation. Everyone knows kids learn best through play and we found this WWF Wild Scenes made learning a fun and engaging experience for the little ones.
We love the sustainable nature of this playset and how it contains no genetically modified seeds, so parents can appreciate that no toxic pesticides have been used when growing the seeds, which can be harmful to our planet.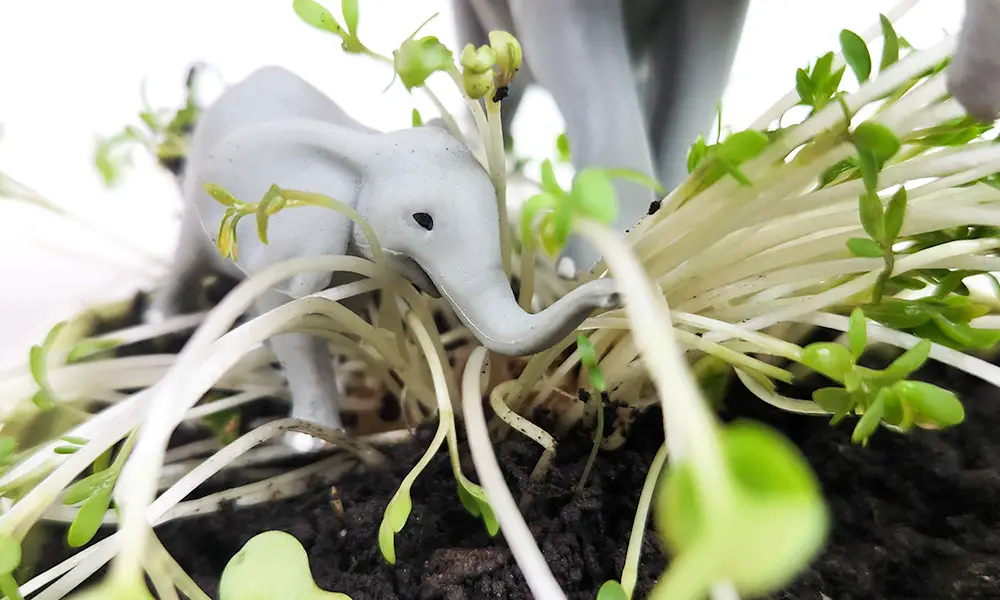 It's been a dream to watch the kids enjoy growing their own cress and then when grown they put them into a sandwich to eat. With the playset being re-useable we can plant more seeds, we did just buy more cress seeds at the local garden centre because that's what the kids wanted, however talks have been around trying something new the next time we plant, so this is for sure a playset that will be used again and again.
As a family we got a feel good vibe from the fact that when each playset is sold a donation is made towards the safeguarding of wildlife, so with this and all the fun we had playing and growing with PlayMonster WWF Wild Scenes we wouldn't hesitate in recommending these collectible toys for families to check out.
Don't Forget to Like and Follow our Facebook or Pinterest Page, for daily posts full things such as fun ideas, competitions and local family info