Very Puzzled Wales Map Puzzle Review: Fun and Educational Jigsaw for Exploring Wales
Prepare yourself for a detailed exploration of the captivating Very Puzzled Wales Map Puzzle! This vibrant and contemporary jigsaw is a fantastic source of fun and learning for kids and adults alike. As a gift, we had the pleasure of testing it with our own children, and now we're excited to share our honest thoughts. Join us as we explore the puzzle's design, educational value, and overall experience, and discover why it's a must-have for families seeking engaging entertainment and educational enrichment.
Playing the Jigsaw: Exploring Wales Piece by Piece
The Very Puzzled Wales Map Puzzle consists of 100 premium-grade cardboard pieces, which come together to reveal a colourful and detailed map of Wales. Each region of Wales is represented with landmarks, monuments, and attractions, sparking curiosity and initiating discussions about the country's rich history and culture. As we pieced the puzzle together, we discovered fascinating facts about Wales and engaged in meaningful conversations with our children.
Jigsaw Puzzle Benefits for Kids:
Engaging in jigsaw puzzles offers a multitude of benefits for kids. Not only do they provide hours of entertainment, but they also contribute to the development of essential skills, such as…
Boosted hand-eye coordination.
Enhanced motor skills development
Expanded knowledge of the world and geography
Improved shape recognition and spatial reasoning abilities
Enhanced memory through pattern recognition
Strengthened problem-solving skills
Cultivated patience and perseverance
Encouraged goal-setting and achievement
About the Very Puzzled Wales Map Jigsaw Puzzle:
The puzzle measures 52 x 37 cm when complete and is suitable for children aged 5 years and up. The high-quality materials ensure durability, and the linen finish print minimizes glare, providing a clear and enjoyable puzzle-building experience. Additionally, the puzzle comes with a downloadable PDF guide featuring biographies of notable figures depicted on the map, including Shirley Bassey, Anthony Hopkins, Dylan Thomas, Catherine Zeta-Jones, and Gareth Bale. The guide also includes engaging questions to spark exciting conversations with children.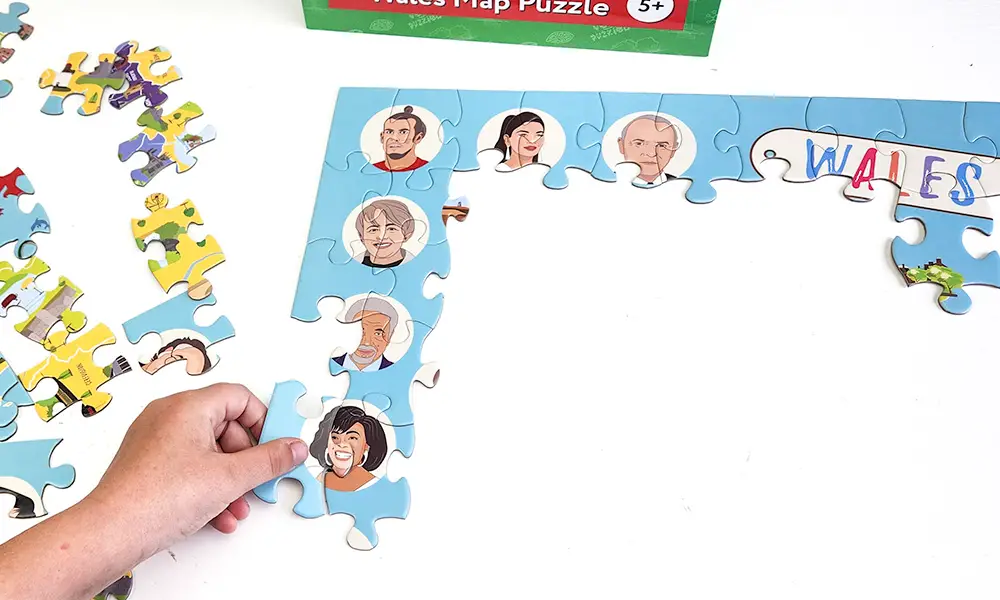 Our Honest Thoughts:
Our children thoroughly enjoyed completing the Very Puzzled Wales Map Puzzle. Its vibrant and captivating design kept them engaged and motivated throughout the process. We appreciated the educational aspect of the puzzle, as it allowed us to introduce Welsh history and culture in a fun and interactive way. The inclusion of the downloadable guide was a fantastic addition, providing additional learning opportunities and fostering meaningful discussions.
The puzzle's quality impressed us, with the strong premium-grade cardboard ensuring the pieces remained intact even with multiple uses. We believe this puzzle will be an excellent boredom buster during the May Half Term and summer vacations, encouraging children to explore and learn while having fun.
The Very Puzzled Wales Map Puzzle offers an entertaining and educational experience for children and adults alike. Its vibrant design, durable construction, and accompanying guide make it an excellent choice for exploring Wales's rich heritage and geography. We highly recommend this puzzle to families seeking a fun and educational activity that fosters curiosity and learning.
Where to Buy Very Puzzled Wales Map Puzzle
You can purchase the Very Puzzled Wales Map Puzzle from Very Puzzled's website or John Lewis for £14, making it an affordable and worthwhile addition to your family's puzzle collection.
Win Your Own Very Puzzled Wales Map Puzzle
As an extra little treat, we would love to offer the chance for one of our readers to Win their very own Wales Jigsaw from Very puzzled.
If you are interested, then simply visit our Competition Pages and Enter this Competition for Free – Good Luck!